PRODUCTS:
S-TEK main business scope is radio-frequency IC and analog/mixed signal IC designs which are focused on the development of high frequency communication ICs, RF modules, for applications such as CDMA, Opto-Electronic Integrated Circuit (OEIC), Wireless LAN, VSAT, point- to-point radio, direct TV satellite receiving, LMDS and electronic traffic control as well as automotive electronics, etc. Main products are as following:
1. MMIC products
Our main MMIC products cover RF T/R front-end chips such as PAs, LNAs, switches, and many other chips, which are based on world-leading GaAs, SiGe, as well as RF CMOS foundry processes. For GaAs MMICs advanced 0.25um or 0.15um PHEMT (including power, low noise) as well as 2um HBT technology has been used.
Major MMIC products and related applications are listed in the following:
2. Multi-mode, Multi-channel RF and mixed signal chips
1)Wide band,multi-channel RF chips, including LNA, Mixer, FS, VGA, covering applications for frequency range of 3 – 5 GHz.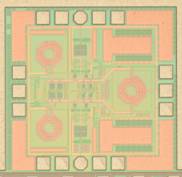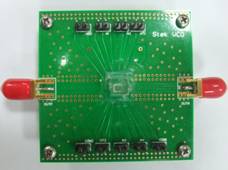 2)High speed D/DA
| | |
| --- | --- |
| Resolution | 8-bits |
| Type | Single Channel |
| Conversion Rate | 500 MHz |
| Supply oltage | 1.2 V |
| Input Range | 1.2 VP-P differential |
| Power Consumption | 34 mW** |
| SNDR | 52 dB |
| INL (LSB) | ±2 |
| DNL (LSB) | +0.60/-0.45 |
| FOM | 0.090 pJ/conv |
3)Low power consumption, Low cost wideband (3 - 5 GHz) T/Rx SoC: UWB bandwidth exceeding 100MHz

3. Global positioning satellite receiving chips, OEIC, and multi-mode, Multi-channel RF and mixed signal chips
1)GPS receiver chips including the north pole positioning chips
2)High speed fiber-optic communication transmitter modules, and high-speed network access such as driver, de-multiplexer, multiplexer, clock & date recovery.